Category:
International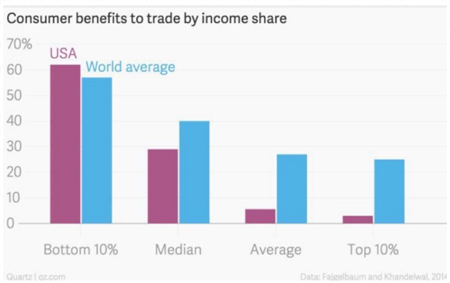 Protectionism is when the government protects or creates jobs in our country by imposing taxes on imports from other countries. What could be wrong with that?
To answer that I am going to use US statistics for 3 reasons: 1) they are more readily available; 2) the argument against protectionism in Canada is the same as in the US even though the figures differ slightly; 3) right now its Americans who are most in danger of being taken in by the protectionist nonsense from con men like Trump and Sanders. So here goes. What's wrong with protectionism.
First: taxation is theft. The government has no moral right to interfere with an agreement between a person in this country and a person in another country and tell them they can't do business with each other unless the government gets a cut. That's something a criminal gang does. The government is a criminal gang. Taxation is wrong.
Second: protectionism hurts all the people involved. Why aren't the people in the other countries important to us? They seem to be important enough to send them charity. Even the government sends them foreign aid. So we care about them too? We want them to have what they need to survive? But we just don't want them to get to earn it by making things and selling it to us. We only want them to get what they need by receiving it as charity. Wow, we are really good people aren't we? We'd rather impose taxes on someone, put them out of work, and make them dependent on handouts then reward them for their efforts by being honest and paying them for their stuff. We can blame it on supposedly unfair policies of their government but it's not their government that we're hurting, its the productive workers and businesses in these other countries that suffer from tariffs. And we say we love people all over the world. How hypocritical!
The only people protectionism "protects" is businesses and workers in industries who can't compete fairly with those producing the same things in other parts of the world. These mouchers need the government to step in and save them from those who are willing and able to provide either better quality stuff or cheaper stuff. The mouchers could become more efficient. They could decide to take less profit. They could decide to take less wages or other benefits. They could decide to retool or retrain so they could produce something else better than foreign competitors. But no, they want to keep all their money and benefits and comfortable jobs and force others to pay for their greed. Why actually compete with others fairly when they can just vote in a government that will knock their competitors out of business by imposing tariffs on them.
But hasn't it been proven that all this free trade has cost us jobs?
Not at all. Technological progress has enabled the manufacturing sector to produce more stuff using fewer workers. Look at this chart. In 1985 it 18 million workers in manufacturing in the US to produce almost half as much stuff as just 12 million workers produce today.
Also, the manufacturing sector is a much smaller portion of the economy than it once was. The graph below shows how manufacturing jobs have declined from about 40% of the non-farming workforce just after WW2 to less than 10% today. This decline started well before the first of the free trade agreements were signed. The value added to the economy by the manufacturing sector is now only 12% of the US gross domestic product.
Those talking about imposing tariffs to save or create "our" jobs point to the balance of trade deficit in manufactured good compared to other countries. In other words, we buy more manufactured good from businesses in other countries than from business here. True, but so what? Look at the favourable balance of trade in the more important services sector.
Do you hear these protectionists talking about how unfair it is for the US to hold such a favourable balance of trade over other countries in the service industry? A sector which is growing bigger and will continue to grow while the manufacturing sector shrinks and will continue to shrink? Do you hear them promising to impose extra taxes on US based services so they service sector in other countries will be able to compete and take jobs away from the US service sector? (I bet you haven't and you never will.)
By imposing taxes on manufactured imports, those imports will cost more. So the protectionists (Trump and Sanders) want to make 90% of the workers and businesses pay extra for stuff like shoes, clothes, and similar stuff, so that the 10% of workers and businesses who can't compete fairly with those overseas can stop trying to become more efficient.
And who do you suppose it hurts the most if you increase the cost of shoes and clothes and other stuff? The rich? What does it matter to a rich person if their $100 shoes now cost $115? But it matters a lot to the poor or middle class if the stuff they need now costs an extra 15% – just so 10% of them can keep their jobs a little longer in industries that are quickly being phased out by technological progress.
This graph shows how much more the poor and middle class benefit from being able to buy cheaper foreign products compared to the rich.
By Trump's own estimates protectionism will add about an extra $1,500 per year to the cost of daily necessities. Protectionism is a tax on the poor and middle class so that politicians can make headlines by bragging about the "saving our jobs" in the 10% of the economy made up of the manufacturing sector. It's a con. Don't fall for it.
For the icing on the cake get this: most of the manufacturing sector itself would even be hurt by protectionism. That's because most of the stuff the US imports goes into the manufacturing of other stuff. For example, Ford imports parts that get used to make cars. If the imported parts cost more, so will the finished car. Not only will made in the USA stuff cost more for Americans, but the higher price will make it harder to sell American made goods to foreigners. So half the stuff protectionism would make more expensive to everyone, would end up helping absolutely no one, not even the 10% of people working in the manufacturing sector.
And we're not done yet. If anyone for a second actually believes that other countries will let the US get away with imposing tariffs on their imports without retaliating by imposing their own tariffs on US exports, you are really beyond hope. China and other countries will retaliate and even more stuff will cost even more money. This new trade war will spread into other sectors and end up costing jobs. The net effect of all this is that more inefficient businesses and workers will stay in business and more efficient businesses and workers will be unable to compete. Being good at what you do will be less important than whether your particular sector is favoured by the government. It will be the government, politicians and bureaucrats, who will determine which businesses survive instead of the decision being made by consumers.
If people heard Trump and Sanders promising to impose a new tax on everyone that would hurt the poor more than the rich and would only help a tiny portion of the economy, no one would ever think of voting for them. Well, that's exactly what they are promising.
"Save our jobs"? Seriously, get a grip.